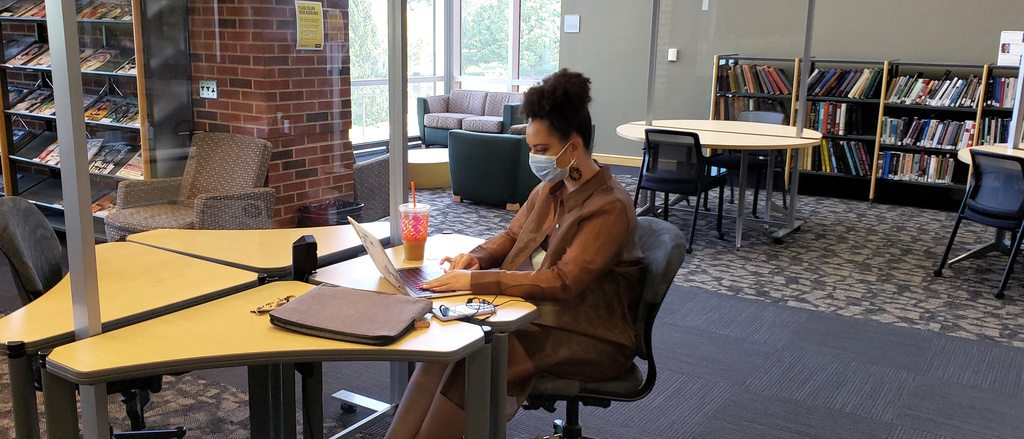 The Student Center, located in Room E350 Adler Journalism Building, is a place for students to study, relax between classes, work on group projects, check e-mail, do research, and browse key publications in the field of journalism and mass communications. 
Center Hours (Fall 2020)
Monday-Thursday: 9am - 7pm
Friday: 9am - 5pm
Saturday and Sunday: CLOSED
Services Offered
Peer Mentors - Peer Mentors serve to support and encourage student success! Students: make an appointment with a peer mentor today!
Course Reserves - The Student Center has copies of required textbooks for SJMC courses available for checkout behind the front desk. Student may check books out for 2 hours.
Research Help - Do you need help finding articles for a research paper? Would you like to learn how to do better database searches?  Contact us or stop in between 8:30-5:00 M-F for help.
Writing Assistance with Journalism writing assignments. The Writing Assistance Project is staffed by SJMC teaching assistants. See Writing Assistance Guidelines below.
Conference Room - Available for students who want to work on group projects, hold student organizations meetings, or conduct phone interviews.  A scheduling book is available at the front desk to reserve the room.
Journals, Magazines, and Books in the field of journalism and mass communications are available for checkout. Major U.S. newspapers as well as Iowa community newspapers are available for reading in the Student Center. Required textbooks for most journalism courses are on reserve at the front desk. In addition, other reserve readings and videos can be found here. View our Journal, Magazine, and Newspaper Holdings or view our Resource Center Circulation Policies.
Computers - Eight Mac computers are available for working on assignments, printing homework, doing research and checking your email.
Photocopier available in the back of the Student Center, $0.15 per page.
Black/White and Color Printers - ITC printers are available. 
For more information or questions about the Student Center, contact:
Jennifer Cooper
Resource Center Coordinator
E350A Adler Journalism Building
319-335-0510
jennifer-l-cooper@uiowa.edu
---
Writing Assistance Guidelines
What we can do for you:
We can help you identify logical and conceptual problems in your assignment.
We can help you better understand how to correctly cite your sources.
We can help you communicate your ideas with clarity, coherence and readability.
We can help you better use outside sources to strengthen your argument.
We can help you organize your assignment by using techniques like sequencing, transitions and flow.
We can help you assess source quality, especially from Internet.
We can help you with general writing techniques such as mechanics, syntax and word choice.
What we cannot do for you:
We cannot guarantee that you will receive an A on any assignment.
We cannot write the paper or assignment for you.
We cannot copy edit your entire assignment.
We cannot interpret your assignment for you. You must go to the instructor for that.
We cannot guarantee the amount of time an assessment of your assignment might take.
See also: Journal, Magazine, and Newspaper Holdings and Resource Center Circulation Policies.