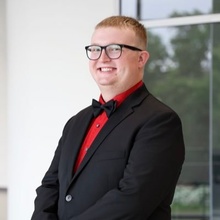 Recent SJMC graduate Austin Hanson was a finalist in the 63rd National Writing, Photojournalism, Audio, Television and Multimedia Championships for the William Randolph Hearst Foundation's Journalism Awards Program – with his piece "Behind 'The Bull': An unfractured look at Iowa men's wrestler Alex Marinelli."
The piece placed third in the individual personality profile writing category in the monthly Hearst Journalism awards earlier this year, propelling him to the championship judging.
"It was an exciting moment when I saw the announcement that Austin had earned a spot in the Hearst National Championship contest for writing," SJMC Lecturer Lillian Martell said. "This contest brought together eight of the best student reporters and writers in the nation, and Austin was one of them."
The Hearst National Championship is extremely competitive. Thirty finalists in 20 categories competed in spot assignments at the championship competition in San Francisco California. The assignments were chosen by media professionals who judged the finalists' work throughout the year and at the Championships. Hanson, one of eight writers participating in the writing category, received a $1,500 scholarship for his achievement. The 30 finalists were picked from 1,034 monthly submissions to the Hearst Journalism Awards during the 2022-23 academic year.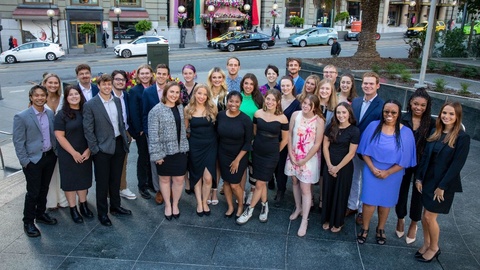 "It was an honor to compete in the Hearst Foundation's national journalism championships in San Francisco. I was thankful for the opportunity to represent my school one last time," Hanson said. "I hope I made the University of Iowa and the School of Journalism and Mass Communication proud."
Throughout the academic year, SJMC students Chloe Peterson, Grace Smith and Jerod Ringwald won monthly Hearst Journalism Awards in various categories. Peterson's piece "Building a plane as the plane is flying: Clarissa Chun building Iowa women's wrestling program from ground up" placed in the personality profile writing category. Smith and Ringwald placed well in the two individual photo categories. They were both semi-finalists for the National Photojournalism contest.
The UI is one of the 105 member universities to participate in the Hearst Journalism Awards. It placed 10th in the intercollegiate competition across all categories. At the end of the school year, Hearst tallies all the points individuals scored in various categories, then adds them together for a final university score.