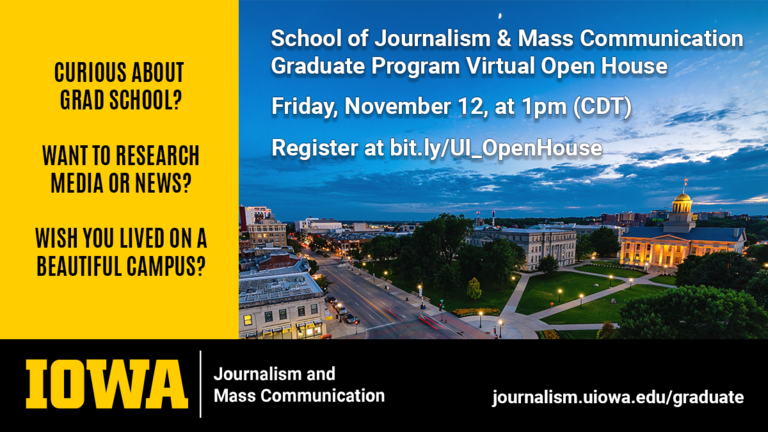 The School of Journalism & Mass Communication at the University of Iowa is now accepting applications for its PhD and MA programs in Mass Communication. Those interested in learning more about the School's graduate programs are encouraged to attend an online open house on Friday, November 12, at 1pm (CST). 
The School is home to the first PhD program in the field of mass communication, and it continues to train emerging scholars in cutting-edge research. Our curriculum provides a strong foundation in humanistic and social science theories and methods. Research areas of strength include global media, digital media, sports media, health/science communication, journalism studies, and critical/cultural studies.
Faculty work closely with graduate students to identify their professional goals as well as collaborate on research studies and grant-funded projects. The School prioritizes student well-being as well as academic success. Our collaborative and cooperative community supports mental health, work-life balance, and diversity, equity, and inclusion.
Graduate students are offered four years of funding in the form of teaching or research assistantships, which provide salary stipends, tuition remission, and benefits. Students can receive up to $2,500 per year in research and travel funding from the School, and there are additional funding opportunities available through the university.
The School is housed in the Adler Journalism Building, which offers state-of-the-art classrooms, graduate student office space, and a newly remodeled faculty and graduate student lounge. The School is home to the Journal of Communication Inquiry, the only student-edited journal in our field.
For questions about our graduate programs, visit https://journalism.uiowa.edu/graduate or contact Director of Graduate Studies Brian Ekdale at brian-ekdale@uiowa.edu