Saturday, October 14, 2023
Kimmi Chex, on-air host for NFL Network and Iowa SJMC alum, visited Iowa last Friday, October 6. Chex captivated students with her personality and career as well as motivated many to go out and live their dreams.
Hot takes of Travis Kelce and Taylor Swift aside, Chex gave students an inside look like at being on-air for the NFL. She shared her day-to-day life, how she prepared to be on screen, advice on balancing mom duties with a demanding career, and what it took to get to her life in the spotlight.
Chex gave many pieces of advice, but one that truly stuck out was advice to never settle for something less than you are capable of. She explained before graduating she was offered a job with ESPN and was fully prepared to take it, but once the NFL job came along, she knew she could not pass it up. Both were very exciting offers to have right out of college.
Chex provided other advice, such as making yourself seen shows you also care deeply for the job. Chex said when she first entered the NFL she would show up to the office every day very early so her boss saw her. That first NFL job put her behind the scenes in international analytics, something she was not familiar with. She knew if her boss saw her, at least he knew she was trying, even if the results might not have been perfect. This landed her more opportunities and eventually she was put on air.
These are just a few of the insights she gave students. Something very motivating and empowering she shared was her life as a mom and a woman in this profession and how that isn't very common.
It is not normalized for a woman to be in this position at the NFL, and Chex made it clear that she knew that. She said that a lot of her day-to-day is looking at film and stats, because being a woman in the NFL leaves no room for mistakes or you will be criticized right away. If a man messes up it isn't a big deal, but if a woman does she will be criticized for not knowing the game.
Being a mom to a 10-month old also draws challenges for Chex, but she never lets it be the cause for excuses in her work life. She made it clear that if she is going to do this job, her employers need to respect her life as a new mom. Luckily, she explained that her bosses are very respectful, but she also said she knows other workplaces can be less accommodating towards new moms.
After the conversation, Chex and select students went on a lunch to talk further about what it takes to be in this career.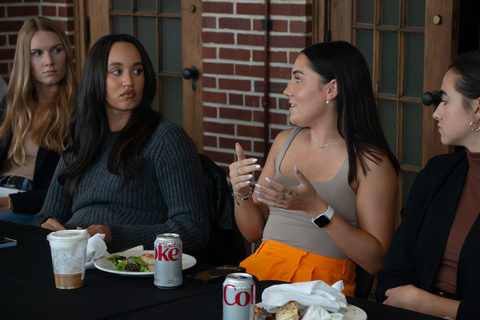 We appreciate Kimmi Chex coming to The University of Iowa and sharing her time with us. She is a real inspiration and students look up to her more than she knows! We hope to see her back on campus again one day soon.