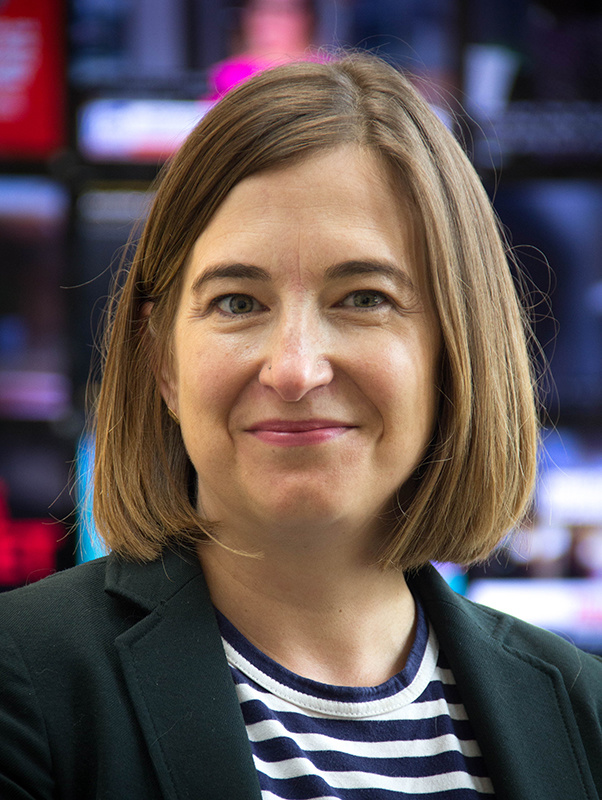 The Scripps Howard Fund and Association for Education in Journalism and Mass Communication selected University of Iowa School of Journalism and Mass Communication associate professor Dr. Rachel Young to receive the 2022 Scripps Howard Teacher of the Year Award.
Candidates are recognized for excellence in teaching in several areas, including innovative teaching practices, influences on curriculum, mentoring of students and faculty, scholarship as it relates to teaching, leadership in educational activities and ongoing industry engagement inside and outside the classroom. This is a national competition and only one award is presented each year. 
Young is highly engaged with journalism and media professionals, the surrounding community, and students. As Director of Undergraduate Studies, she has worked extensively to make resources accessible and has created new opportunities for students. 
"I am thrilled that Prof. Young has been recognized with this prestigious award. She embodies the values of the Scripps Howard Teacher of the Year award in everything she does. Prof. Young's excellence and consistent contributions to student learning are best evidenced by her long-standing commitment to community-engaged teaching and experiential learning. Her teaching focuses on developing collaborations between students, faculty, and communities for the exchange of knowledge and resources. This work centers partnership and reciprocity and goes beyond traditional notions of service learning," said Director Melissa Tully.
In Prof. Young's classes, students have produced work that is meaningful to them and the communities they partnered with. Students developed a comprehensive bike safety campaign for Sioux City, Iowa, created Spanish and Mandarin-language victim services brochures for the Johnson County Prosecutor, and developed a campaign that led to the passing of a hotel occupancy tax in Washington, Iowa, that will earn $30,000-$40,000 annually for tourism promotion and community development.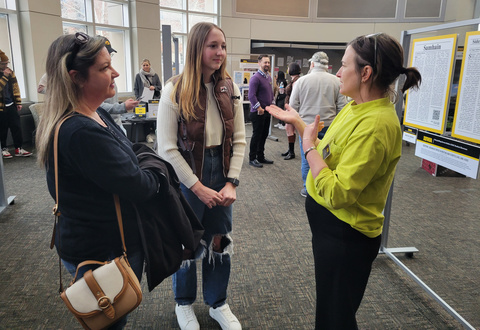 Through her experience with community-engaged teaching, Prof. Young identified the need for more sustained partnerships and place-based initiatives that focus on the unique characteristics of a community. 

Building on her experience with community partners, Prof. Young developed the Coralville Media Collaborative. This initiative connects SJMC students and classes with community organizations and small businesses in Coralville, Iowa. The goal of the Collaborative is to help students learn professional media skills while supporting the transformative work already happening in Coralville. Students work with community partners in class settings and through a community-based internship program that Prof. Young launched and directs. 

Prof. Young has shaped the School's peer mentor program and opportunities and outreach for new students. She takes time and effort to meet with students, even those not taking her classes.  
"I've gone to her [Prof. Young] with questions about classes, about jobs, scholarships, graduate school, anything really and she's willing to help me out. She's like a one stop shop for all of your needs, and I've never had her as a professor," said peer mentor Josie Taylor. 
Never having Prof. Young as a professor isn't unheard of, but it is rare. She teaches general education courses through graduate student courses. The breadth her expertise and her cool, calm demeanor attracts students. As a health communications scholar, Prof. Young brings her research and experience into the classroom. 
"When I took Media and Health with Professor Young, she was a fabulous teacher. She engaged all of the students regardless of our majors and made sure we were interacting with one another," said recent graduate Eleanor Hildebrandt. "She interacted with the content really positively making sure everyone had the space to leave if they needed to or to speak up if they had a different opinion."  
Prof. Young while grateful for the recognition, emphasized community and the University of Iowa SJMC. 
"It's really humbling to be recognized," said Young. "This is a testament to community support around our department and Eastern Iowa." 
Prof. Young is also the recipient of the 2023 Hubbard-Walder Award for Excellence in Teaching at the University of Iowa and the 2018-2019 Collegiate Teaching Award from the College of Liberal Arts in Sciences at UIowa.