Dr. Dan Berkowitz and Roxanna Scott selected to be the 2023 inductees to the SJMC Hall of Fame
Wednesday, April 19, 2023
Dr. Dan Berkowitz and Roxanna Scott have been selected to be the 2023 School of Journalism and Mass Communication Hall of Fame Inductees!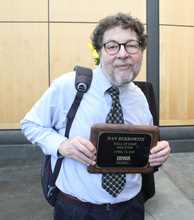 Dan Berkowitz is Professor Emeritus at the University of Iowa School of Journalism and Mass Communication. He earned his bachelor's degree in forestry from Humboldt State University in 1975, and worked in forestry, radio broadcasting and public relations. He received a master's degree in journalism from the University of Oregon in 1985. After completing a Ph.D. in Mass Communication at Indiana University in 1988, he began a 30-year career at the University of Iowa. For 8 years, Dan shared his time between SJMC and the UI Graduate College, as Associate Dean.
As a teacher, his courses included public relations, computer-assisted reporting, research methods, media and terrorism, and social and cultural approaches to the study of news. He served as advisor or co-advisor for more than 60 graduate students across SJMC's three graduate programs, and was a member of a multitude of graduate committees. As a scholar Berkowitz was author or co-author of more than 60 journal articles, edited books and book chapters, along with nearly 70 refereed conference papers. He is a recipient of the Outstanding Graduate Mentor Award in Social Science from the Graduate College.
Berkowitz was a Fulbright Senior Specialist at the University of the West Indies in Kingston, Jamaica. His academic travels also took him to Thailand, China, Israel, Canada, South Korea, Egypt, Germany, England, and Sweden.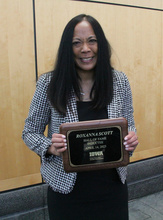 Roxanna Scott is executive editor and vice president for USA TODAY Sports, one of a handful of women leading
a sports department nationally. A former president of the Association for Women in Sports Media, Scott was previously managing editor for USA TODAY Sports and managing editor of Golfweek. She has directed coverage of eight Olympic Games at USA TODAY.
Prior to USA TODAY, Scott worked at The Dallas Morning News for 10 years. She was 16 when she began her career in sports reporting as an agate clerk at the Quad-City Times in her hometown of Davenport, Iowa. A graduate of the University of Iowa, she was a reporter and editor at The Daily Iowan for four years. She serves on the advisory board for the Shirley Povich Center for Sports Journalism at the University of Maryland.