Wednesday, October 20, 2021
IOWA CITY – On Oct. 13, SJMC hosted a bi-annual Speed Networking event on the third floor of the Adler Journalism building. Twenty students and twenty professionals participated. The numbers worked out nicely so that participants were able to spread out along the hallways.
This is the first in-person speed networking event in over a year. The past two events were held online using Zoom during the pandemic. In the online version of the event, each student was sent to a breakout room where they talked with a professional for an allotted amount of time, and then they would switch. This process continued until they had the opportunity to speak with every professional. 
This fall, everyone was excited to have the opportunity to do it in person to have the face-to-face interaction between the students and professionals.
The event was set up to adhere to CDC guidelines with barstools placed six feet apart from one another and all participants wearing masks. Each student spoke with a visiting professional for three minutes and thirty seconds, until Maddie Huntley, Paul Jensen's intern, blew her whistle, signifying it was time to rotate to the next professional.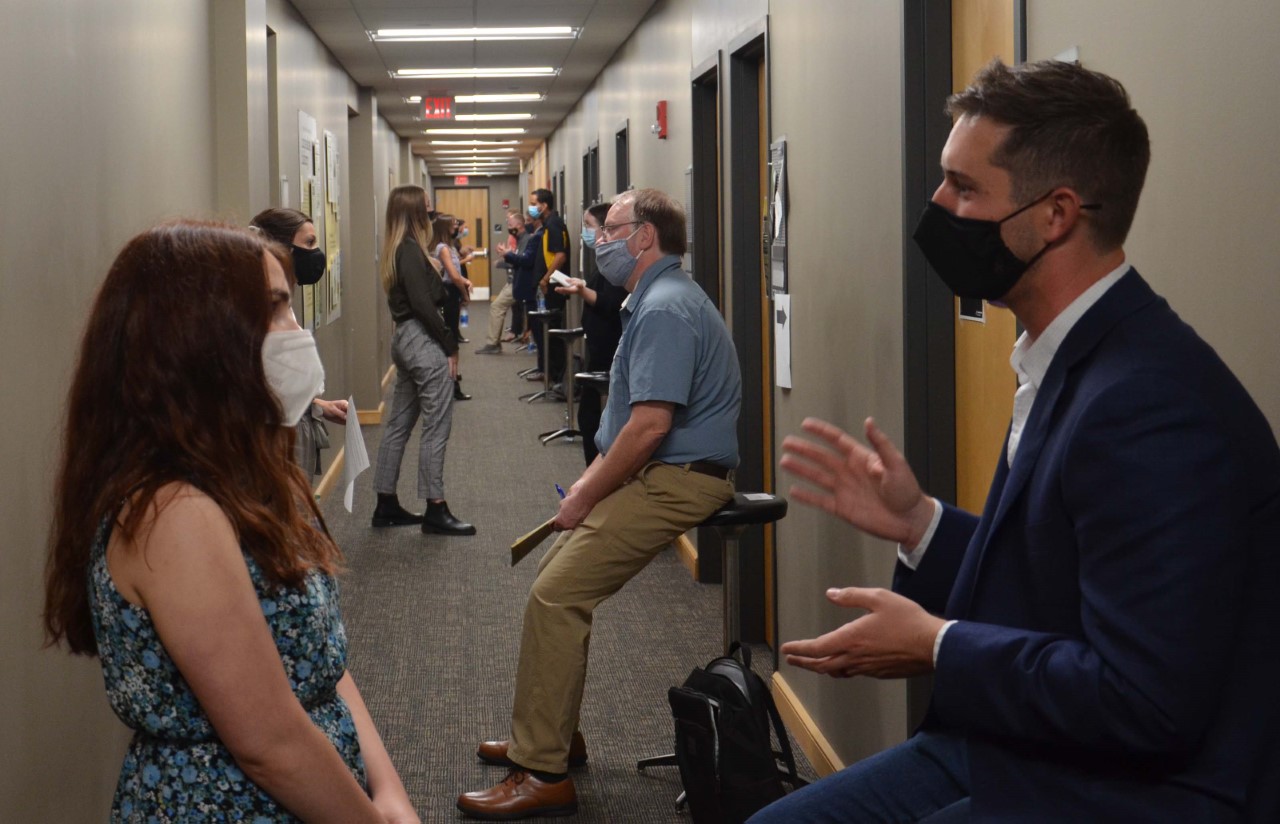 While SJMC encourages all of its students to participate in events such as Speed Networking, the smaller number of students may have ended up benefitting the participants this year.
"I think the Speed Networking event was a success," said Huntley. "We did go down to fewer people, but I think it made it a more intimate event. It allowed each student the opportunity to meet each professional, which was a success in my eyes."
Before Covid-19, the event typically had around fifty students and fifty professionals participate.  This large sum of participants made it difficult for students to get the opportunity to speak with every visiting professional. Again, it wasn't the usual turnout, but this year's speed networking event was a unique experience for both the students and professionals. It allowed for a more personal connection within each conversation – something that was more difficult to achieve in previous years with more participants as well as hosting the event online during the pandemic.
Many students left the event on a positive note and felt great about their experience. The professionals offered a wide variety of perspectives on jobs within the journalism and communications fields, allowing students to get an even deeper understanding of what path they may want to follow post-graduation. 
"My speed networking experience was extremely valuable. I left feeling confident and encouraged after participating in so many great conversations," said Sarah Hager, a fourth-year student in the journalism program. "I am not interested in pursuing a career in traditional print journalism, and many of the conversations I had left me with new ideas of jobs that could suit my passions."
The Speed Networking event isn't just about making connections with people in the working world, but rather to learn about the various career paths that await the students after graduation. Above all, it is a learning experience and a method to make the students think about what career path fits them best.