It was a typical Friday evening in Iowa City, and the Iowa Hawkeyes were gearing up to take the field at Kinnick Stadium in just less than 24 hours. For most students, this meant finishing up school work from the week and making their way to downtown Iowa City for the night. However, for Sammy Sommerfeld and Jack McFarland, this meant performing their weekly podcast at The Airliner.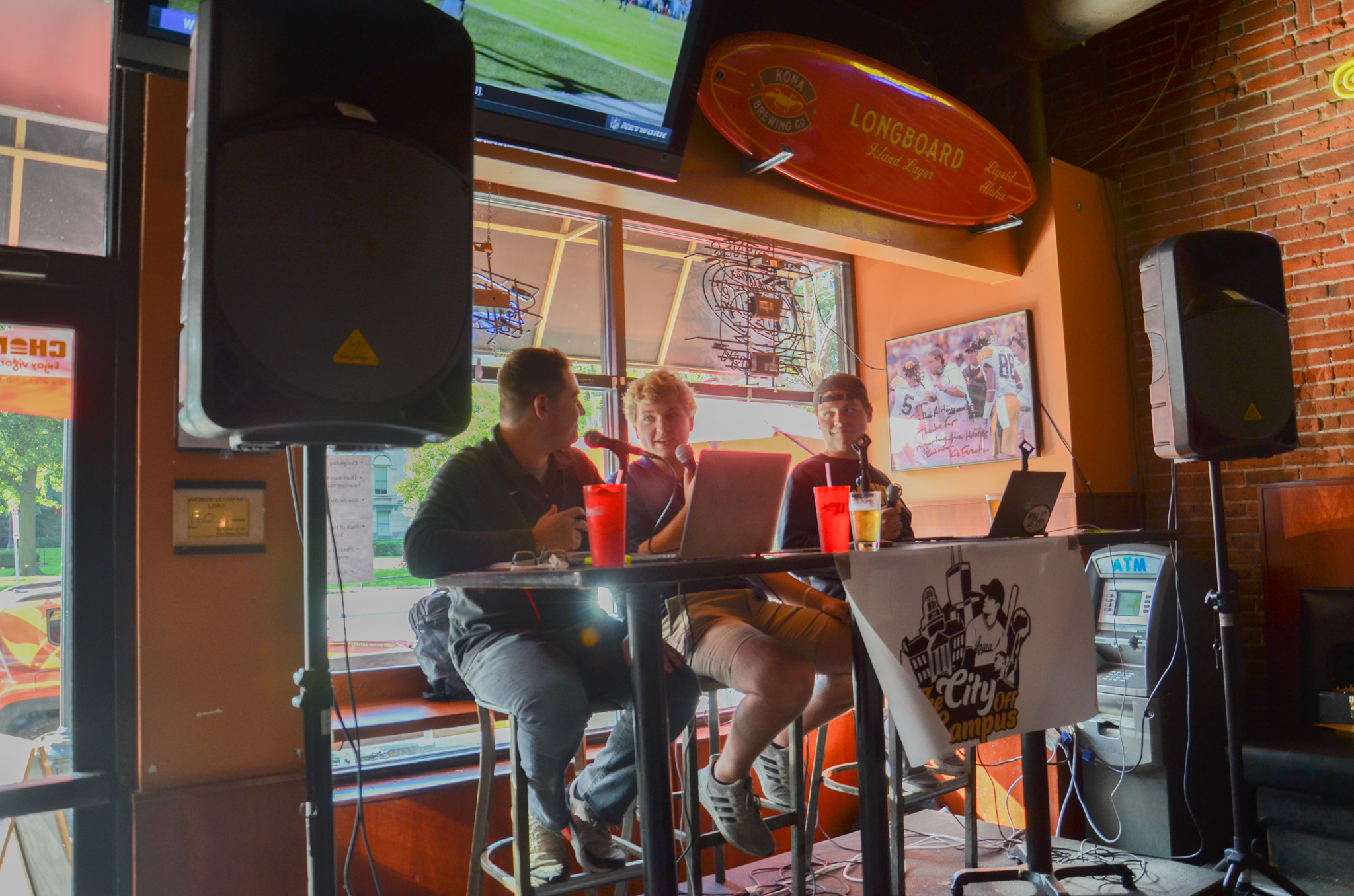 Sommerfeld and McFarland met just prior to their sophomore year at the University of Iowa and they decided to start a radio show for KRUI. From October 2019 to March 2020, they recorded a weekly radio until the onset of the Covid-19 pandemic. The show encompassed sports talk, sports debate, interviews, and various guests. 
After March, the duo transitioned and began to plan their own podcast. They used a brief outline from their previous knowledge with the radio show at KRUI, and enhanced it to create "The City: Off-Campus."
"Our radio show was called 'The City' and then we named the podcast 'The City: Off-Campus," said Sommerfeld. "At the time, we were quarantined and neither of us was in Iowa City, so we called it being 'Off-Campus,' so people could relate to it."
After their start in August 2020, Sommerfeld and Jack McFarland have been producing at least one, and oftentimes multiple podcasts per week. These podcasts have featured notable guests such as ESPN Anchor Kevin Negandhi, ESPN NBA Insider Bobby Marks, and Broncos Tight End Jeff Huermann.
"All the interviews have to do with building relationships," said Sommerfeld. "Jack and I are both good at building relationships with our guests. Through this experience and being current students, we've really been able to connect with the athletes and the professionals that we have. We're able to relate to people in different ways and build relationships that have made the podcast what it is today."
Aside from their high-status guests, Sommerfeld and McFarland have also worked hard to build a friendly space for Hawkeye athletes to come and speak their minds – this is something McFarland particularly takes pride in. 
"We try to talk to each of our guests like they put their pants on just like us, they're normal people," said McFarland. "They understand their stature, who they are as Iowa athletes, they get asked a lot of questions, but we lower the bar a little, and just talk like humans."
"The City: Off-Campus" has spoken with Iowa athletes from various sports including men's basketball player Patrick McCaffrey, wrestler Spencer Lee, football kicker Caleb Shudak, baseball player Ty Snep, and many more. Building these connections has helped them reach a wide audience within the University of Iowa student body.
They have also been reaching a new audience by conducting live podcasts at The Airliner on Friday evenings before home games. Starting this semester, the live podcasts have been a new experience for both of them. Recording a podcast over the internet with no fan interaction is one thing, but to do it with listeners present is another.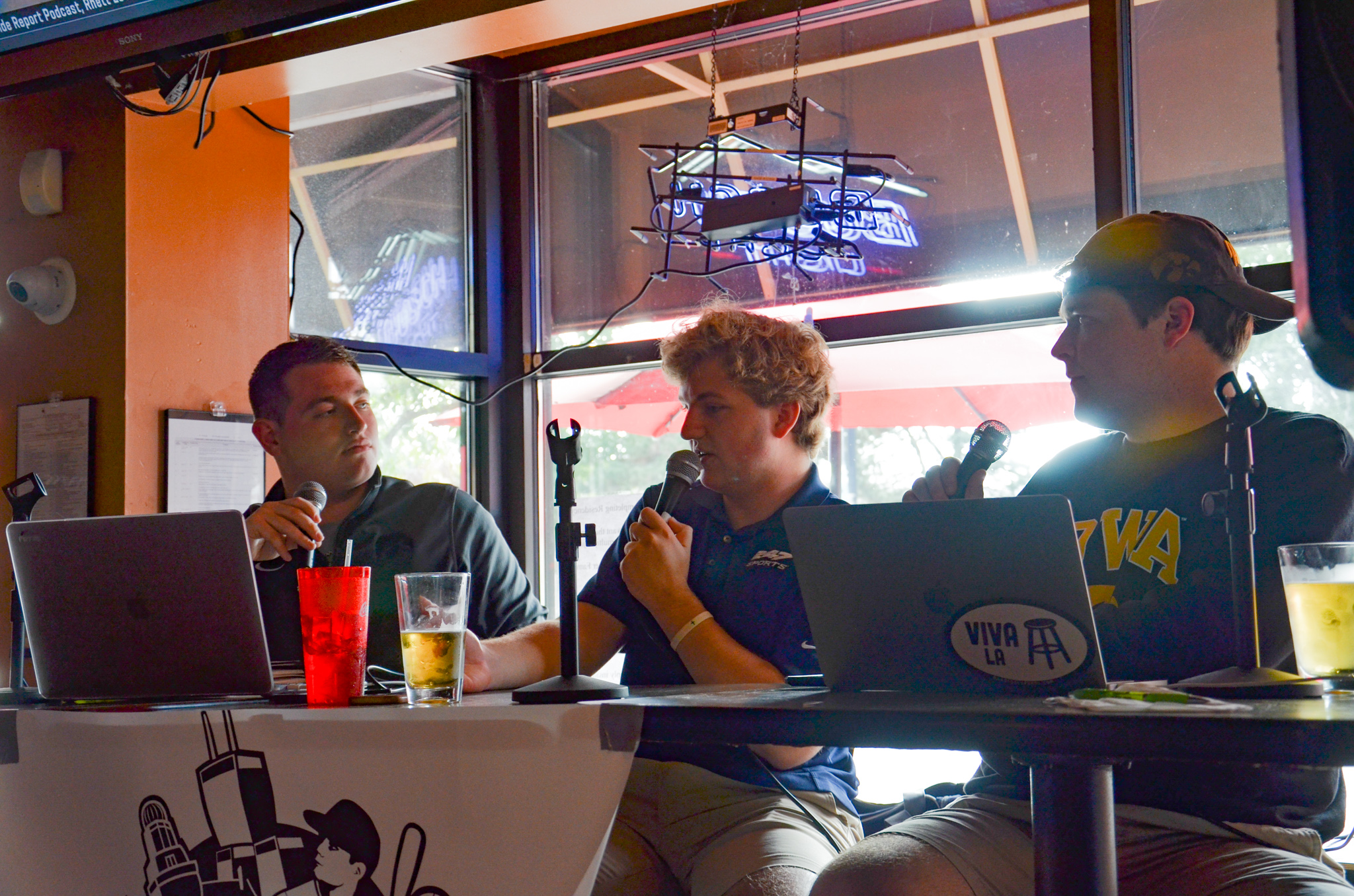 "Seeing the person you are interviewing, seeing their face, how they receive the question, and their mannerisms, it's small things like that," said McFarland. "There's no delay, so it's as human as it gets, and it's perfect. We want that intimate feeling of being in the conversation, and that's exactly what the live shows have become."
From starting at KRUI and enduring a pandemic, to doing live shows with an audience; the duo has come a long way. Fueled by a passion for talking sports and building connections with their guests, Sommerfeld and Farland just did it. 
"Just do it," said Sommerfeld. "Don't be afraid, do what you're passionate about, and take risks. For us, we took a lot of risks and I'd say almost all of them have paid off, and if they didn't, we learned from them."
Being driven by passion is when your best work comes out. Sammy and Jack aren't doing this because they feel like they have to, they're producing "The City: Off-Campus" because it's what they love to do – they find joy in doing it. The fact that it's a good experience for potential future jobs is just an added perk. This mentality is also what has found them successful over the past year.
Their podcast has been streamed in over 10 countries and 30 different states. They have 325 followers across social media and are looking to expand as the year goes on. "The City: Off-Campus" has also seen high engagement rates among its posts. 
Sommerfeld and McFarland plan on continuing the podcast for the rest of the year but have no plans further than that. With graduation in sight, there is no telling what the future holds. They took a leap of faith and have learned so much from this opportunity.
For now, they will continue to interview Iowa athletes and other guests as well as grow their brand to a wider audience.
You can listen to The City: Off-Campus on Youtube, Spotify, and Apple podcast.
Twitter account: @cityoffcampus
Instagram account: @thecityoffcampus