Tuesday, September 28, 2021
Fernando Pizarro graduated from the School of Journalism and Mass Communication with a master's degree in Journalism in 1993. Since his time as SJMC, Pizarro has gone on to become an Emmy award-winning and nominated journalist.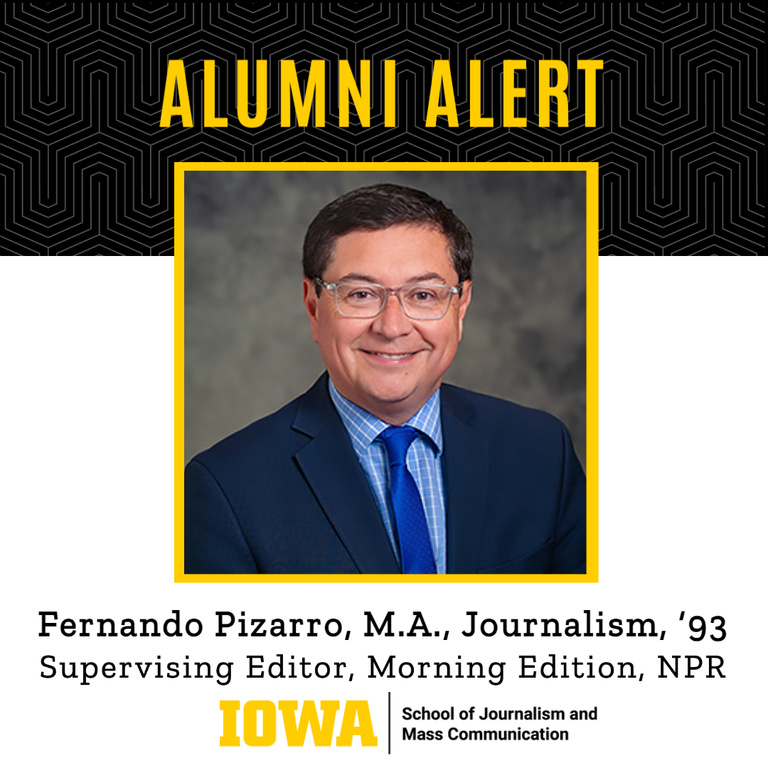 Like many Alumni, Pizarro spent much of his time at SJMC working with The Daily Iowan. Starting as a columnist in 1991, he eventually became the managing editor. During his time as editor, the Daily Iowan was awarded Iowa's Newspaper of the Year. 
After his internship with KGAN Channel 2 News as a student, Pizarro was offered a job after graduation. 
"Channel 2 was my first real professional experience but I still rave about The Daily Iowan," Pizarro said. 
After a year with Channel 2 and a brief move to Charlotte, North Carolina, Pizarro relocated to Washington, D.C. to join ESPN International as an anchor. There he covered sports like soccer, Formula 1 Racing, and baseball. 
The direction of his career changed in 2003, when Pizarro became a political correspondent for Univision, the largest Hispanic media company in the U.S.
"My position with Univision made me an expert on two things: immigration and Hispanic and Latino issues," Pizarro said. 
Pizarro explained that as a student, he wasn't much identified with the Latino community. Before working with Univision, he hadn't spent much time thinking about the issues he would soon cover. 
"I would get approached by people who would watch me from across the country and come to D.C. to march for status, for example," Pizarro said. 
Pizarro said this was thrilling, but emphasized it was not because people were recognizing him from being on TV. 
"They were thankful for the work that we did every day," Pizarro said. "They weren't just thanking me. They were thanking my cameraman who they had never even seen." 
After many years of reporting with Univision, Pizarro accepted his current position as the Supervising Editor of NPR's morning edition. Pizarro said he had always wanted to be a news manager and that was something that he hadn't gotten the opportunity to do yet. 
"You do feel that you're covering things that sometimes have a big effect on people," Pizarro said. "There's a kind of responsibility when you cover politics." 
As a journalist in a digital age, Pizarro feels it can be tricky to manage the misinformation and disinformation that is sometimes perpetuated by the internet, but he also feels that there has always been criticism about the media. 
"It's not always easy, but I always see my mission as being able to inform," Pizarro said. "To explain complex things to an audience." 
Pizarro encourages any current SJMC students to reach out to him with questions about political reporting or a career in journalism.