Tuesday, September 14, 2021
On August 17 and 31, Associate Professor Rachel Young released her two latest installments of work. This research builds off a previous interest in cyberbullying and online risk. 
The first article, "Young Adults' Folk Theories of How Social Media Harms Its Users," is a study that analyzes young adults' understanding of harmful content for online media to find folk theories. Young collaborated with SJMC M.A. student graduate and current University of Missouri Professor Brett Johnson as well as Dr. Volha Kananovich, an Assistant Professor at Appalachian State University and a Ph.D. graduate of SJMC.
The process for this article was a rather quick one – a rarity according to Young. 
"Brett, Volha, and I first surveyed college students in fall 2019 and the paper was just published in fall 2021," said Young. "For a paper that took a lot of thinking, analysis, and revision, that's actually pretty quick!"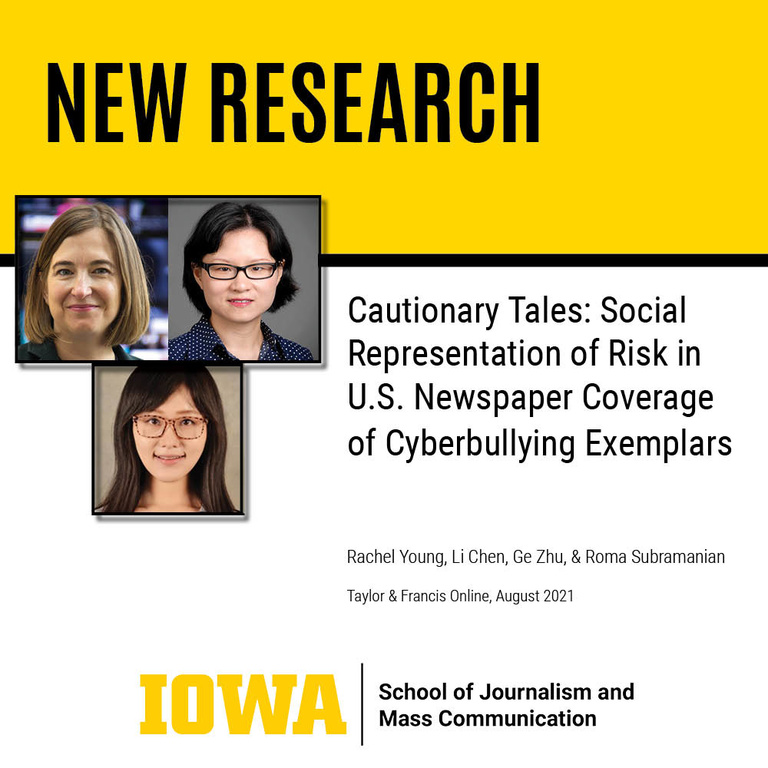 In the second publication released, Professor Young worked with Roma Subramanian, an Assistant Professor at the University of Nebraska Omaha, SJMC Ph.D. graduate Li Chen, and current SJMC Ph.D. candidate, Ge Zhu. Their article "Cautionary Tales: Social Representation of Risk in U.S. Newspaper Coverage of Cyberbullying Exemplars," investigates the actual stories of victims to see how they reflect the risk associated with aggression in an online medium.
Since the dawn of the interactive web spaces, Young has become increasingly interested in the effects of online harassment. While both articles analyze different types of research, they both attempt to answer the same big question.
"A lot of my research considers how we reckon with the positives and negatives that social media and other digital technologies bring to our lives, our health, and our mental wellness," said Young. "Both these papers fit with that general idea."
For this research, Young worked with former or current students. Young views this as very positive and is a telling sign of how SJMC pushes students to collaborate on research projects. Young also urges students to get out there and talk to their professors about potential opportunities to collaborate.
"Students can email me anytime," said Young. "I'm always happy to talk about research opportunities or just chat about the many impacts digital media has in our lives. The interesting thing about studying digital media effects is that almost everyone has an opinion."