Monday, September 27, 2021
Rebecca Morin graduated from the School of Journalism and Mass Communication in 2016. Since then, she has worked as a breaking news reporter for Politico, and is currently a White House reporter for USA Today. 
Like many alumni, Morin spent the majority of her time at the University with the Daily Iowan. Morin started as a news reporter and eventually worked her way up to the metro editor. In 2014, the Daily Iowan politics team was established and Morin became a politics reporter.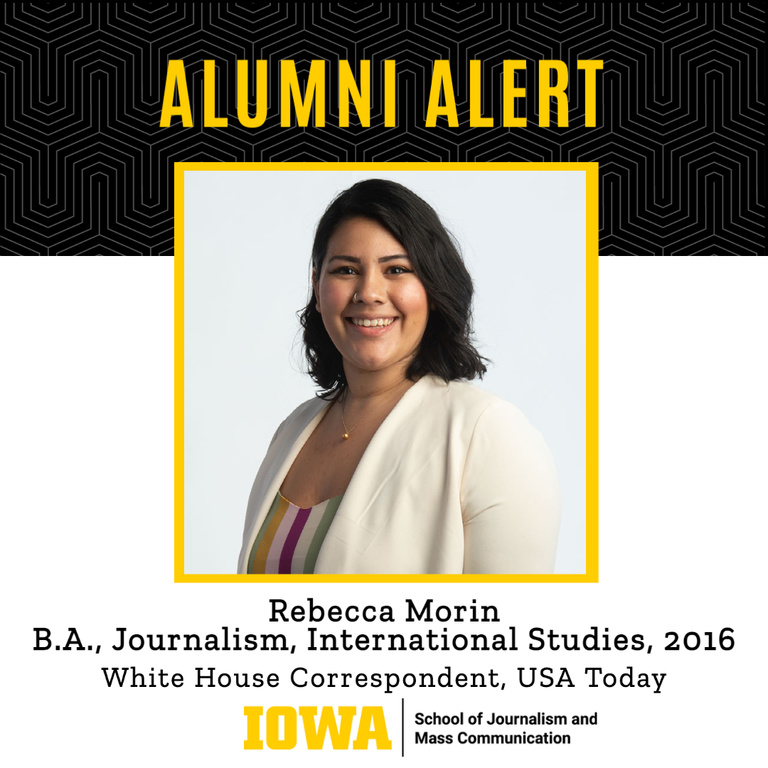 In 2016, Morin graduated from SJMC and accepted a position with Politico as a web producer. 
"I did a lot of behind the scenes stuff," Morin said. "Think SEO, social media management, that kind of thing." 
Also in this role, Morin took on extra responsibilities and covered breaking news on the weekends. Eventually, Morin became a breaking news reporter. 
In 2019, Morin accepted a position with USA Today. 
"Now I'm a White House reporter and it feels kind of surreal every day," Morin said. "Whatever President Biden is doing, we're the ones covering that. If he gives a speech, we cover it. If something crazy happens, we drop everything and cover it." 
Originally from the Rio Grande Valley, Morin explained that growing up, she thought her work would take her away from her hometown. Now, she finds herself covering stories happening in her hometown often. Morin also credits her experiences growing up in the Rio Grande Valley for the way she reports. 
"It's helped me think differently about the way I talk with and make connections with people," Morin said. "I don't think I would be at all who I am today without my experiences." 
In an increasingly tense political climate, Morin said she sometimes finds it difficult to find ways for people to understand the truth. 
"Being a journalist, it's becoming increasingly obvious that people don't trust you," Morin said. "But when people feel like they're not being heard, I want to listen." 
To read some of Rebecca's work, follow the links below: 
Migrant encounters at southern border topped 200k in July
Is Nicki Minaj visiting the White House to talk about vaccines?