School of Journalism and Mass Communication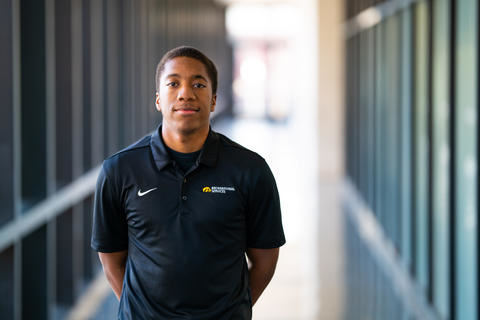 Grant Glover, a fourth-year senior from Lockport, Illinois, has made the most of his time at the University of Iowa School of Journalism and Mass Communications. In addition to his SJMC coursework, Glover serves as co-editor of NURU, the National Association of Black Journalists' Iowa publication.
"We really focus on giving Black voices a place where they can be open and honest about their experiences here in Iowa and elsewhere," said Glover. "As co-editor, I edit stuff that comes in with the help of Dr. [Venise] Berry, NURU's chairman, who really keeps me going. She got me started freshman year, I took a class, and that's how I got started with [NURU]." 
On top of his editing duties for NURU, Glover also writes for the publication. Through his second area of study, Critical Cultural Competence, Glover studies gender and racial equality, which has helped his writing.
"With writing, it's helped me learn how to approach people differently," said Glover. "Learning what mistakes not to make at first so you can keep relationships and be able to talk to pretty much anybody—really taking that fear away from talking to people."
Glover has a vast interest in journalism, proven by his willingness to try different facets of the job. He's currently working on an investigative piece regarding racial equity in sports, in addition to the profile sand features he's written for NURU. Glover also works with audio; he worked on a KRUI sports show during his freshman year and did some podcasting, too.
As he sets his sights on graduation, Glover plans to combine his passions and journalism experience.
"I want to do sports journalism or sports strategic communication," said Glover. "I'm really passionate about sports, it's definitely one of my loves. I think being a sports strategic communications person is where I could use all of the stuff I've learned to help teams get their messages across, put out statements, and do a lot of different things."
Like many young sports fanatics, Glover grew up watching ESPN, and cites current ESPN journalists Mike Wilbon and Bomani Jones as influences. Glover said that as he's gained more free time in college, he's become an even bigger fan of the programs.
Glover is a multi-faceted journalist who is willing to try anything. He stresses the importance of building a support system, adding that "Iowa is a great place where everyone can find that, especially in SJMC."
"Be open to new experiences," Glover said. "Put yourself out there. Don't be afraid to try something. All the stuff I've gotten into is because I said, 'Let's go, let's try it out and see what happens.' That's how I got started at NURU. It's how I joined journalism."